The impact of the cinema
.


The comforts of home

.

Be blown away by the latest movies and sporting events in your own private home cinema room. A home cinema is one of the most immersive and convenient ways to enjoy film, gaming and streaming and we specialise in bringing the big screen into your home. Every space we engineer is individual to you and designed to recreate the fully immersive experience of the cinema. With huge advances in audio and visual technology, you can expect to be wowed and marvel at the silver screen like never before.

Enquire now
Luxury Home Cinemas
Whether you are looking to create a dedicated cinema room, convert a basement or garden room or you are simply wanting to enhance your existing media room, we can transform your space into the ultimate home venue for entertaining family and friends. We create sleek, cutting-edge home cinema installations by combining nearly 20 years of experience with industry-leading technology. Collaborating with top industry professionals like Meridian Audio, Barco, Sony, Wisdom Audio, Anthem, Storm Audio and Lutron to ensure we always produce the highest quality installations in London and throughout the Home Counties.
Experience Counts
All our luxury home cinema systems are designed to your specific needs and budget by our in-house experts who have a wealth of experience working directly with clients as well as collaborating with interior designers, developers, and architects to deliver the seamless home cinema installation you deserve, and all our home cinema designs and installations adhere to the CEDIA guidelines.
Home Cinema Installation
.
The key elements for the perfect Home Cinema are not only sound, vision and lighting, but the room itself and how the space can be utilised to maximise the effect. Our dedicated inhouse team can work with your project team or deliver the whole project for you. From design and any initial construction works through to wiring, sourcing equipment, installation, and calibration, through to seating and décor. We have a wealth of experience to draw from to ensure we meet your budget and make the absolute best of your home cinema installation.
Home Cinema Key Features
---
Audio
A truly cinematic experience would not be complete without good quality sound delivered through a state-of-the-art audio system. We know just the right audio installation to deliver outstanding richness, depth, and clarity of sound to create a fully immersive, surround sound experience in which the full impact of sound can be felt. We work with world-leading innovators like Meridian and Wisdom Audio who have been innovating and leading the way for sound perfection for over 40 years. When designing the audio, we ensure every inch of the seating area receives the perfect level of frequency and volume. We achieve this by calculating the speaker's on-axis and offaxis response to ensure total coverage. Amplification and signal processing is designed around the number of speakers, their location and speaker type to maximise performance by ensuring the amplification matches the speakers' requirements. We calculate the room size and even air pressure levels so we can position subwoofers correctly to ensure an even spread of bass throughout the entire seating area. We utilise DSP (Digital Signal Processing) to perfectly calibrate the whole system to the finished room.
---
Acoustic Treatments
Interior acoustical treatments provide for the optimal reproduction of music and movies in stereo and multi-channel formats, as well as for relaxed conversation. Their use is guided by two parallel requirements: reverberation time, and enhancement of sounds delivered by the loudspeakers — or, at the very least, does not detract from that delivery while achieving reverberation time objectives. Our in-house specialists will cover every aspect of the acoustic treatment for your home cinema, calculating the room's air pressure levels, reflection points, dead zones, reverberation points and subsonic standing waves. Using cutting-edge micro-perf technology, each acoustic panel is made to measure and installed on-site by our in-house technicians and can be disguised as wall features or hidden behind acoustically transparent fabric giving a top-quality designer finish.
---
Screen
Whether you want a hidden 4K UHD television or a quality projection screen, creating the perfect picture requires more than high-spec home cinema equipment. For a truly stunning home cinema experience, you need to see every detail across the whole screen and that takes technical expertise. Our technical know-how will ensure you get the best from your technology by calculating the optimal viewing distance and fitting the perfect screen size for your room. We have partnered with Screen Research and Projecta who offer a bespoke range of screen sizes, mounting types, aspect ratios and fabrics to support all our installations. Our in-house designers consider every detail to give you cinema-quality visuals with high definition, vibrant colour, stunning contrast, and impeccable clarity.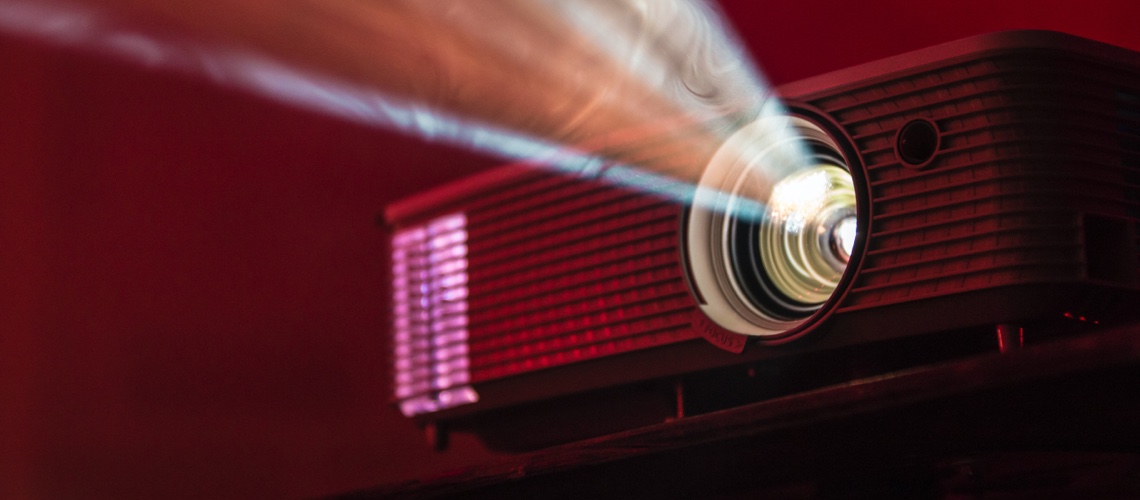 ---
Projectors
For a truly authentic immersive cinema experience, you will need a quality projector. Forget about those rickety old projectors from your school days, we're talking about dedicated high-end projectors with the picture quality to rival your local cinema. With options ranging from Full HD to True 4K projectors, our highly skilled in-house design team will guide and advise you every step of the way guaranteeing your expectations are not only met, but surpassed. As each projection room is different, we only recommend the best option that is perfect for your bespoke requirements. Laser source technology has made huge advances over recent years and has filtered down to the luxury high-end residential market. This technology often provides many benefits to a bespoke cinema room in terms of contrast ratio, colour accuracy and more than 25,000 hours of usage.
---
Lighting
Lighting in your home cinema should create a relaxing atmosphere that immerses you more deeply in your entertainment and enriches the overall experience. By adding lighting that skilfully achieves just the right blend to recreate that moviegoing experience, our in-house lighting specialists will design the perfect mix of lighting technologies to bring something unique to your home theatre. From recessed lighting to colourful laser lights, we use a selection of fittings to achieve a result that effortlessly complements and enhances your home theatre, allowing you to immerse yourself fully in the cinematic experience all controlled by the touch of a button. A starlight ceiling is the ultimate enhancement delivering not only a professional decorative
---
Smart Control
After settling into your favourite seat with your popcorn ready to enjoy the film, the last thing you want to do is get up and turn off the lights. Using a fully integrated control system you have complete control over every aspect of your home cinema from the comfort of your cosy chair. Everything from lighting, temperature, speakers and all entertainment tech can be controlled from your smartphone or tablet. We have partnered with Control4 and Savant Automation to offer the best in smart home control systems and as a Control4 Pinnacle Approved Dealer, we deliver outstanding service and support.
---
Round-the-clock support
For peace of mind, we offer a round-the-clock support service to help keep your home cinema installation ready to entertain. Whether you require remote diagnostic support or a home call-out, we have got you covered 24/7 365. Our support plans are designed to help you with maintenance and guarantee you are getting the best from your home cinema.
More Home Automation Services
.
Explore other areas of home automation to see how ATI can help create your dream space and take full control of your home.